1 to 5 Acre Lots For Sale • Beautiful Kenai Peninsula • Alaska
Beautiful Building / Recreational Lots for Sale
Spectacular mountain views
Residential/Recreational View Lots
3 Miles to Kenai River
Private Lake Access
Unlimited Recreational Potential
Miles of Snow Machine/4-Wheeler Trails
Biking, Hiking & Ski Trails
Boating/Water Skiing
Owner Financing
Underground Electric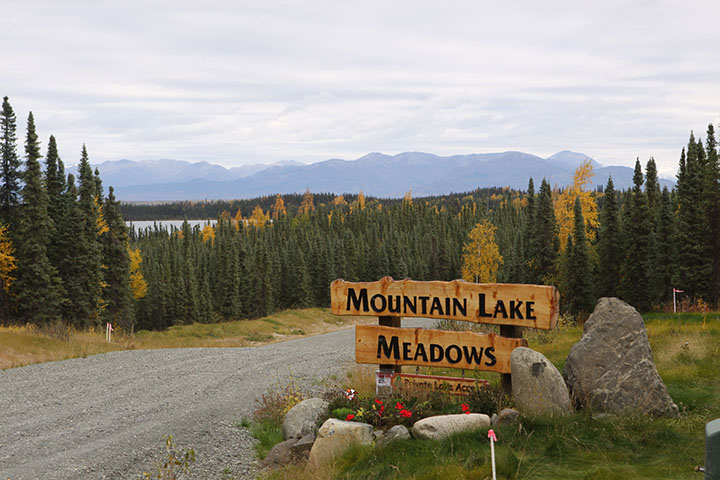 Welcome to Mountain Lake Meadows
This subdivision has been in the planning and construction stage for the past 5 years. Our family has used this "Oasis" for our private family retreat for many wonderful years.
This property is located east of Soldotna in the Kenai River community of Funny River.
Come view this spectacular property by traveling on Funny River Road to Mile 16 1/4. turn right onto Lake Road and follow the signs. Owner financing is available.
This property is sloped naturally in three levels and the views are across Browns Lake area, east to Skilac Lake/Glacier and Mountain range and south to the Tusamena hills. The south property line of this subdivision is accessed by Moose Ridge Ave. which is also the boundary line for the Kenai National Wildlife Refuge.
Mountains and Browns Lake
This beautiful 50 acre + subdivision has just been completed with construction of roads, field survey of lot corners and final plating. Streets have curved radius throughout to enhance subdivision esthetics. Lot corners are off set where possible to improve view.
Mountain Lake Meadows has tri-level ground contour elevations which leads to spectacular views of the mountains and meadows.
The forest is made up of spruce, aspen and birch trees. Natural wildflowers, moss, willows and berries make up the surrounding forest floor.
This property is "Real Alaska" and a great investment for single family residential and recreational use.
Recreational Opportunities
This area is at or near countless trails & other recreational uses which contribute to hiking, 4-wheeling, snowmobiling, cross country skiing, boating, canoeing, kayaking, sailing and fishing at nearby Arurra Lake. A new Funny River 9 hole golf course opened recently. The famous Kenai River with its world-class salmon and trout fishing is only 3 miles from this property. Kenai Municipal Airport with regularly scheduled flights to Anchorage and beyond is only 45 minutes away.
Private lake access has 60 ft. of frontage, a sandy beach, picnic area, fire pit and lot of grass landscaped area for your enjoyment
Protection for your Investment
Protective Covenants have carefully been prepared and recorded for the protection of your investment.
Mountain Lake Meadows has dedicated private Browns Lake access with a keyed gate and access road.
Interior streets have been constructed to Kenai Peninsula Borough regulation and specification and are Borough maintained.
Kenai River fishing just 3 miles away
907-398-7900