Snowmobiling and Skiing on Alaska's Kenai Peninsula
Snowmachining
The Kenai Peninsula has so many areas to play in that it is hard to list and cover adequately the beautiful trails and scenery that are part of this South Central Alaska landscape. Browns Lake area trails cover Killey River to Harvey Lake and Skilac Lake country. Summit Lake trails Mile 48 Seward Hwy will give matchless views and ice fishing..!
Lost Lake & Cooper Lake Trails in Copper Landing produce some very real vertical challenges. Resurrection Pass Trail Mile 52 Sterling Hwy is open in for snowmachines in "even years" & "odd years" for Skiers and takes you over the "top" to the Village of Hope. What a ride! Take your ice fishing poles for this one.
Caribou Hills Trail is very popular and offers over 60 miles of groomed trails. Moose Pass Trails, Turnagain Pass Trails, Mystery Creek Trail, Seward and Homer Trails round out the most popular areas to ride & ride & ride…!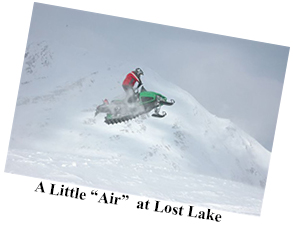 Cross Country Skiing
I am not sure there is a more pleasing sound and heartfelt feeling than the near silent "swishing" sound of skis moving silently through the winter wilderness..! The cry of an Eagle, the sight of a Moose and breathing mountain air makes for some great moments and memories.
The beautiful Kenai Peninsula is not just our home, it's an endless wilderness of spectacular beauty and Nordic ski trails that intertwine this 20,000 sq. mile Peninsula. Many communities, villages and resources make up this great area of Alaska. This is definitely the recreation capital of the State. Mountain Lake Meadows Subdivision is right in the middle of "Meca Playland"..!
Ski Trails
Nordic cross country ski trails are also included in the same areas listed above in the snowmachine section. Turnagain Pass Trail area is a very popular area that covers the entire opposite side of the road from the snowmachine area.
Seward & Moose Pass Trails include Snow River, Trail Lake, Carter Lake & Bear Lake Trails that are maintained by the Seward Nordic Club. Soldotna & Kenai Trails include the Browns Lake Trails at Funny River that border the National Wildlife Refuge. Tsalteshi Trails at Sky View High School in Soldotna and the Kenai City Trails at the golf course.
Nikiski has a Community Trail system that takes off near the Rec. Center and ends at the Nikiski High School. Ninilchik, Clam Gulch, Anchor Point and Homer communities all offer many Ski Trails to challenge your spirit..! Come join the fun!
Your "go-to" location for family fun.!
Mountain Lake Meadows offers all of this winter and summer recreation right out your back door. Your weekend cabin on this property can be the "hub" of your family "get-togethers," picnics, fishing, hiking, biking, skiing or snowmachining!
What a retreat that is only 3 hours drive from Anchorage or you can leave your camper on you lot and fly commercially into Kenai, rent a car and spend your weekend relaxing doing what you want to doon your private retreat at Browns Lake.
You have many opportunities to pick from when you make Mountain Lake Meadows your "go-to" location for family fun.!

907-398-7900