Flying & Driving Alaska's Kenai Peninsula
Alaska's flying heritage is rich with unbelievable stories and characters, services, things to see and totally fun places to visit. Alaska has the highest number of private planes per capita in the nation.  Lake Hood, in Anchorage, is the largest float plane base in the United States. The Kenai Peninsula is one of Alaska's most beautiful and scenic areas in the State. 
Mountain Lake Meadow's  Subdivision is situated right in the middle of this landscape. The Kenai Mountains, Hidden Lake, Kachemak Bay, Kenai Lake, Harding ice fields, Skilak Lake, Kenai River, Cook Inlet, Browns Lake, Fox River valley, Tustumena Lake, Kasilof River,  Resurrection Pass and the Kenai National Wildlife Refuge, to mention just a few of the gorgeous sites to view from the ground and air. Track 5 of Mountain Lake Meadows has lake frontage, a commanding view of the mountains and over 11 acres that includes a float plane harbor, grass airstrip, softball, volley ball facilities and other site improvements.  There are many other 1+ acre mountain view lots for sale with private lake access still available.
Gorgeous, Quiet Alaskan Towns
Many Kenai Peninsula communities are historical treasures.  The nearby town of Kenai, 12 miles east of Soldotna, is the "oldest village" in the State of Alaska dating back to 1791.  Cooper Landing, 45 miles to the East, is one of the most beautiful areas of the State with the Kenai River flowing literally right through town.
Internationally acclaimed Princess Cruises has built a Lodge here. Charter fishing, flying, horseback riding & river float outfits line the roadway through town.
Homer, Seward, Hope, Soldotna, Clam Gulch, Anchor Point and Seldovia are just a few of the communities that provide relaxation, photo, hiking, biking and world class fishing. The scenic beauty is breathtaking..!
Princess Lodge at Cooper Landing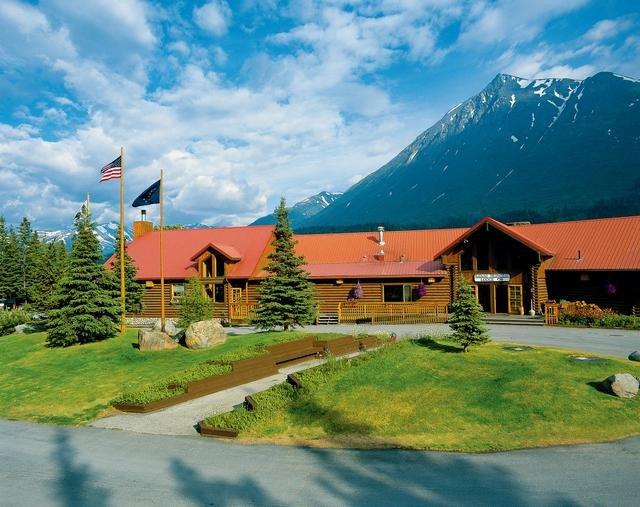 Airports & Scheduled Flights
The Kenai Municipal Airport host an airlines terminal with scheduled flights to Anchorage that run every hour of the day 5 a.m. to 10 p.m., 7 days a week and to points beyond.  This facility also offers car rental.
Soldotna Municipal Airport also has Charter service and car rental.
Both airports are within 30 to 40 minutes driving time of Mountain Lake Meadows Subdivision.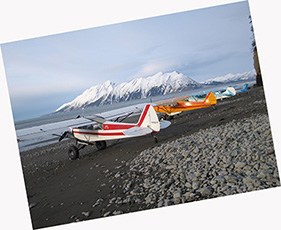 Clam Digging Chinitna Bay 40 miles SW
Back Country Float Trips
Flying is a way of life in Alaska.  Air charter businesses are virtually in every community in the State. Float planes and wheel equipped aircraft can take you to sights you never dreamed possible. 
Wildlife viewing and fishing in Alaska's backcountry is priceless.  Drop off float trips are very popular as well as access to remote, modern lodges for comfort, beauty and just plain relaxation.
Or you can just relax at your own cabin or camp site at Mountain Lake Meadows!
Floating Upper Kenai Canyon
Fly or Drive
The flying and driving scenery between Anchorage and the Kenai Peninsula is compared in beauty to "world class viewing" by vacationers visiting Alaska..! 
That is why this area is considered "The Destination" when traveling to Alaska. The Kenai River "gives up" not just glacial green water beauty but world record salmon and trout fishing as well.
Mountain Lake Meadows Subdivision is less than 3 miles from this river! Fishing, Floating guides & accommodations are available throughout the Kenai Peninsula.
Wildlife Refuge
Alaska, what a country! In the air or on the ground, we love it and you will to..!
Come visit Mountain Lake Meadows located at Browns Lake which borders the Kenai National Wildlife Refuge & enjoy the wildlife viewing right out your front window.
Funny River Road, which leads to Mountain Lake Meadows Subdivision, wanders through beautiful river country and right through the National Moose Range.
Come share what we have to offer you in this beautiful area of the real Alaska..! What a great place to visit, to play, to live and to relax.
One look, one step or one hike out your back door and you will ask yourself," how come I waited so long..?"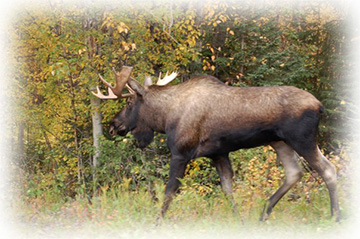 907-398-7900